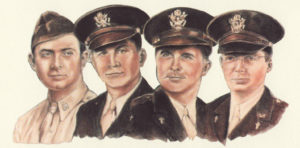 In 1943, the SS Dorchester was attacked, and four Army chaplains gave up their life jackets and stayed on the sinking boat so others could survive. In honor of the 75th anniversary of one of the most compassionate acts of WWII, we invite Rear Admiral (Ret.) Darold Bigger to give two presentations and engage the community in a discussion of courage and forgiveness.
Friday, February 2nd, 4pm – 5pm
Lopez Library Community Room
Wartime Sacrifice during WWII and 9/11
Admiral Darold Bigger (Ret.) will share his experience being on duty at the Pentagon when the planes hit on 9/11, assisting recovery efforts at the Twin Towers, and his personal insight into the role of Navy Chaplains.
Saturday, February 3rd, 10am – 2pm
Grace Episcopal Church
Community Discussion on Grief and Forgiveness
Barbara and Darold Bigger share their personal journey from anger to forgiveness after their daughter was brutally murdered by a stranger. Come dialogue about the future. All are invited; lunch is provided.
About the presenter:
Darold Bigger, Rear Admiral (Ret) Ph.D. MDiv, MSW and Certified Family Therapist, has served as director of chaplains and religious and ethical matters for 100,000 sailors, marines, and coastguard reservists for 30 years. His daughter, Shannon, was murdered in her home by a stranger. Darold and his wife embarked on a journey of forgiveness and wrote a book called "A Time to Forgive." Because of their response to their daughter's murder, they were sent by the Navy to comfort families meeting the bodies of those killed on the USS Cole in Yemen. For this, they received the Distinguished Service Medal, the Navy's highest non-combat honor.
These programs are sponsored by Lopez Island Family Resource Center, Grace Episcopal Church, Lopez Adventist Fellowship, and the Lopez Island Library