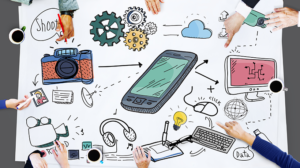 Thank you, Rock Island and Gene Nery. These classes will resume in January 2018. Look for a new schedule of topics.

Introducing Free Tech classes – TECH MADE SIMPLE!
These classes are provided by Rock Island Communications and held in the Lopez Island Library Meeting Room.
Thursday, October 5th, 10:30am – 12:30pm
Streaming/Smart TVs/Remote Controls
Get the most out of your Smart TV. We will discuss TV resolution, services available and how it differs from the TV that we've grown up with. We will also discuss some basics on Remote Controls
Monday, October 9th, 12pm – 2pm
Facebook Tips and Tricks
In this class we will talk about various aspects Facebook. Its uses, etiquette, what to do, and not do.  How it can be used for staying in contact with old friends and family as well as an online presence for businesses.
Thursday, October 19th, 10:30am – 12:30pm
iPhone Photography
Today's iPhones have very capable cameras. However, most of its features are not necessarily obvious or easily found. Let's explore what can be done on just the iPhone's camera and the apps that can take better advantage of it.
Friday, October 27th, 10:30am -12:30pm
Computer Tips & Tricks
Get the most out of your computer.  Learn some techniques to help your computer time be more efficient and enjoyable. Learn to see how your files are organized and how to navigate within your computer. Topics include: Computer and technical terms, storage vs. memory, files and folders, understanding the desktop, keyboard shortcuts, "drag and drop"
Friday, November 3rd, 10:30am -12:30pm
Email Tips, Tricks & Etiquette
Good email habits keep you and your contacts safe.  Learn about attachments, CC, BCC and correct email forwarding etiquette.  Learn how to share websites, Facebook posts and pages and more.
Friday, November 10th, 10:30am – 12:30pm
Smartphones and Tablets
With the release of the first iPhone just under ten years ago, a revolution took place in how we communicate with each other, how we receive and process information and how we entertain ourselves. In this seminar we will take a look at some of the various devices on the market, the pros and cons to the different operating systems and a quick look at the ways, benefits and costs involved in syncing our photos and content. Topics include: Smart phones, Tablets, Mobile device vs a laptop, Basic concepts in syncing your photos, videos, music and contacts
Thursday, November 16th, 10:30am – 12:30pm
Topic to be decided
Classes will resume in January 2018.