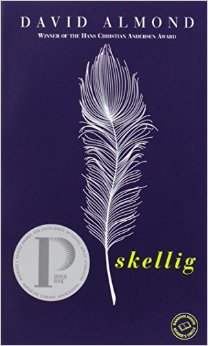 Chosen by the Young Adult Readers of Lopez Island for its mild creepiness to accompany the meeting's proximity to Halloween, David Almond's Skellig generated broad discussion of owls, evolution, heart disease, angels, family relations, homeschooling vs. public schools, truth and dreams. The story revolves around Michael and Mina, two middle-school-aged kids from different backgrounds, who become friends through helping an odd being in a falling down garage. Skellig is an enigma who eats "bluebottles" (houseflies) but also asks for "27 & 53" and has bumps between his shoulder blades. Michael and Mina are drawn to him for different reasons: Michael as a distraction from his very ill baby sister and Mina as an inquiring mind. As the relationship between the three progresses, bizarre and beautiful events emerge.
Readers were split in their reactions, as is often true, but all enjoyed Almond's writing, the pacing, the mystery, and certain wise phrases. Mina says: "Truth and dreams are always getting muddled." Finally, this quote – "Sometimes we just have to accept there are things we can't know." – is a central theme of the story.
Members also recommend: Brilliant, by Roddy Doyle (middle-grade drama/humor); The Finisher, by David Baldacci (middle-grade fantasy); and Nolander, by Becca Mills (young adult urban fantasy).
Our next book is the award-winning historical fiction novel, Island of the Blue Dolphins, by Scott O'Dell. We will meet on the fourth Tuesday, November 24th, 7pm at the Lopez Island Library. Come join us!