Five readers discussed Jasper Fforde's The Last Dragonslayer at the May meeting of the Young Adult Readers of Lopez Island (YARLI). Overall, the quirky, satiric humor and bevy of characters were well-liked. We drew comparisons between the author's Welsh homeland and Brecon as well as the more obvious UnUnited Kingdoms and Great Britain. Main protagonist Jennifer Strange embodied independence and competence at a young age as did her second, Tiger Prawns. The wizards were a rather bizarre, sometimes immature bunch, but held to good moral standards. I think the Quarkbeast, whose only line was "Quark" sprinkled throughout at opportune moments, was the best-loved character of all. We played an excerpt from the audiobook read by Elizabeth Jasicki, whose lush British voice personified the characters. Two sequels have been published (The Song of the Quarkbeast and The Eye of Zoltar) with a fourth and final to come.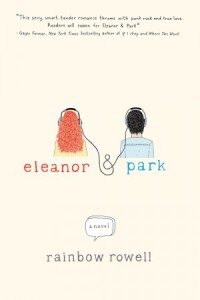 Our book for June 23 is Eleanor & Park, by Rainbow Rowell. Here's a blurb about it: "Set over the course of one school year in 1986, this is the story of two star-crossed misfits–smart enough to know that first love almost never lasts, but brave and desperate enough to try. When Eleanor meets Park, you'll remember your own first love–and just how hard it pulled you under."
For those looking ahead, the July titles are:
The Search for WondLa, by Tony DiTerlizzi
The Wave, by Todd Strasser
All ages are welcome to participate in the book group on fourth Tuesdays, 7pm, at the Lopez Bookshop.