On Your Mark, Get Set …
En sus marcas, listos …
READ!/ LEER!
@ Lopez Island Library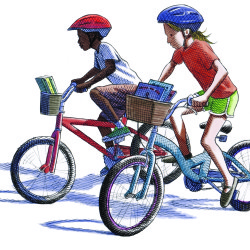 June 17 – August 13, 2016
17 de junio al 13 de agosto, 2016
SIGN UP starting on the last day of school, Friday, June 17!
Preschoolers & School-Aged Children

Summer Reading Program                                         June 17  to August 13
This year's theme is On Your Mark, Get Set … READ!, all about sports and outdoor activities. See a library staff member to sign up. Read, complete activities at the library, and attend library events to earn a Prize Bag and to enter a drawing for a gift certificate to the Lopez Bookshop. Preschool through 5th grade.
Baby & Toddler Storytime                                      Wednesdays, 10-10:30am
Stories, lap rhymes and songs for babies and their caregivers.
Preschool Storytime                                               Wednesdays, 11-11:30am
You're never too young to become a fan of stories, books, and sing-alongs. Focused on toddlers and preschoolers, but fun for the whole family.
Summer Reading Club/Club de Lectura de Verano      Wednesdays, 12-2pm
Beginning June 22nd, reading, games, activities & prizes for preschool through grade 5.
Author Thor Hanson Reading                             Saturday, June 18, 4-5:30pm
San Juan Islander Thor Hanson reads from his new picture book about Northwest animals, Bartholomew Quill: A Crow's Quest to Know Who's Who. He will have books for sale and signing. (His evening program features his book, Seeds, at Woodmen Hall, 7pm.)
Musical Instruments Petting Zoo                   Saturday, June 25, 1:30-3:30pm
Have you always wanted to play an instrument? Come by for demonstrations by local musicians: strings, guitars, horns, flutes, and much more. Surprise instruments, too!
Teddy Bear Picnic                                        Wednesday, July 13, 11am -12 pm
Join us for the 36th annual Teddy Bear Picnic with local guitarist/singer Bill Johnson. Mr. Bear will be there, too. Bring your picnic lunch and teddy bear and be a part of this Lopez Island tradition.
Pet Pals                                                  Wednesday, August 3, 11am-12 pm
Children learn how to greet and pet dogs and cats, when to leave pets alone and what to do when confronted by a scary dog. Children will do a craft project at the end and guest dogs, Chester & Dusty, will help kids practice what they learn.
Tween & Teen Summer Events

Summer Reading Program                                        June 17 to August 13
Open to readers entering the 6th grade & up. Sign up and choose a FREE book! Track your reading time, collect prize tickets, put the ticket toward the prizes you want (cash, Lopez Bookshop gift certificates, iTunes gift card, GameStop gift card). One prize per reader.
Literary Salon                                                                                        7pm
Meets 3rd Tuesday every month

Monthly, literary, "no guilt" salon gives readers the opportunity to discuss and share their favorite recent read. Participants can show up without anything to share.
YARLI (Young Adult Readers of Lopez Island)                                    7pm
Meets 4th Tuesday every month

All ages are welcome at the Lopez Island Library for lively discussions of middle-grade and young adult books. Visit the Lopez Bookshop webpage for the reading list.
Events sponsored by the
Friends of the Lopez Library