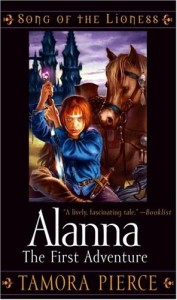 Song of the Lioness quartet, by Tamora Pierce
Reviewed by Madrona W.
The Song of the Lioness quartet, written by Tamora Pierce, is a series set in the made up city of Tortall. The first book in the series is Alanna: The First Adventure, followed by three more. A young girl named Alanna switches places with her twin brother Thom so she can become a knight at the castle instead of being a lady or a sorcerer at the convent. In this series, Alanna goes on many adventures and creates important friendships with people like John the prince, George the king of thieves, and a group of boys training to become knights, none of whom know she is in fact a girl. She makes a few enemies as well, one of them being Duke Roger the prince's cousin, who longs for power and the right to be king. However, Alanna will stop at nothing to protect those she loves and goes to great lengths to keep them safe, adventuring and experiencing life as a young person all the same.
I read this series when I was very young, and being a girl myself, felt a strong pull towards Alanna not because she was a princess, girly and frivolous, caring about nothing more than the opinions of boys and colors of dresses, but because she was a knight, a fierce fighter and a strong young woman. It is too rare that we see women protagonists with such strength, not conforming to the social stereotype so often associated with women. The Alanna series teaches girls at a young age that it is okay to be stubborn, independent, and powerful, that their destiny doesn't have to be getting married and having babies, but that as a woman, you can be anyone you want to be, and if that means not being a warrior, that's okay too, because we can wear pretty things and like boys and still be strong independent women. Alanna goes a long time thinking it can only be either/or, but finds in herself that accepting her femininity is a very big part of being who she is.
This book is one of my favorites, the adventure and excitement of the story is written so well, and all of the characters are developed wonderfully. You feel love and admiration for most, and anger and disappointment for others, but in the end the point is that you feel something. I could not pick a least favorite part of this series because I really can't think of a single thing I disliked, and I wouldn't change a thing. I would recommend this book to anyone. It is written for boys or girls, young or old. Personally, I believe it can be enjoyed by most. It is full of adventure, comedy, friendship, magic, and knights, all the things any person can ask for in a series. Everyone should read these books. They will teach you more than you'd think.