Dr. Sally Hodson arrived at the Lopez Island Library on July 29th with life-sized dog and cat in tow (literally, in a little green wagon) for her Pet Pals program. When live dogs, Chester and Dusty arrived, the inevitable curiosity ensued, followed by acceptance between well-mannered pets.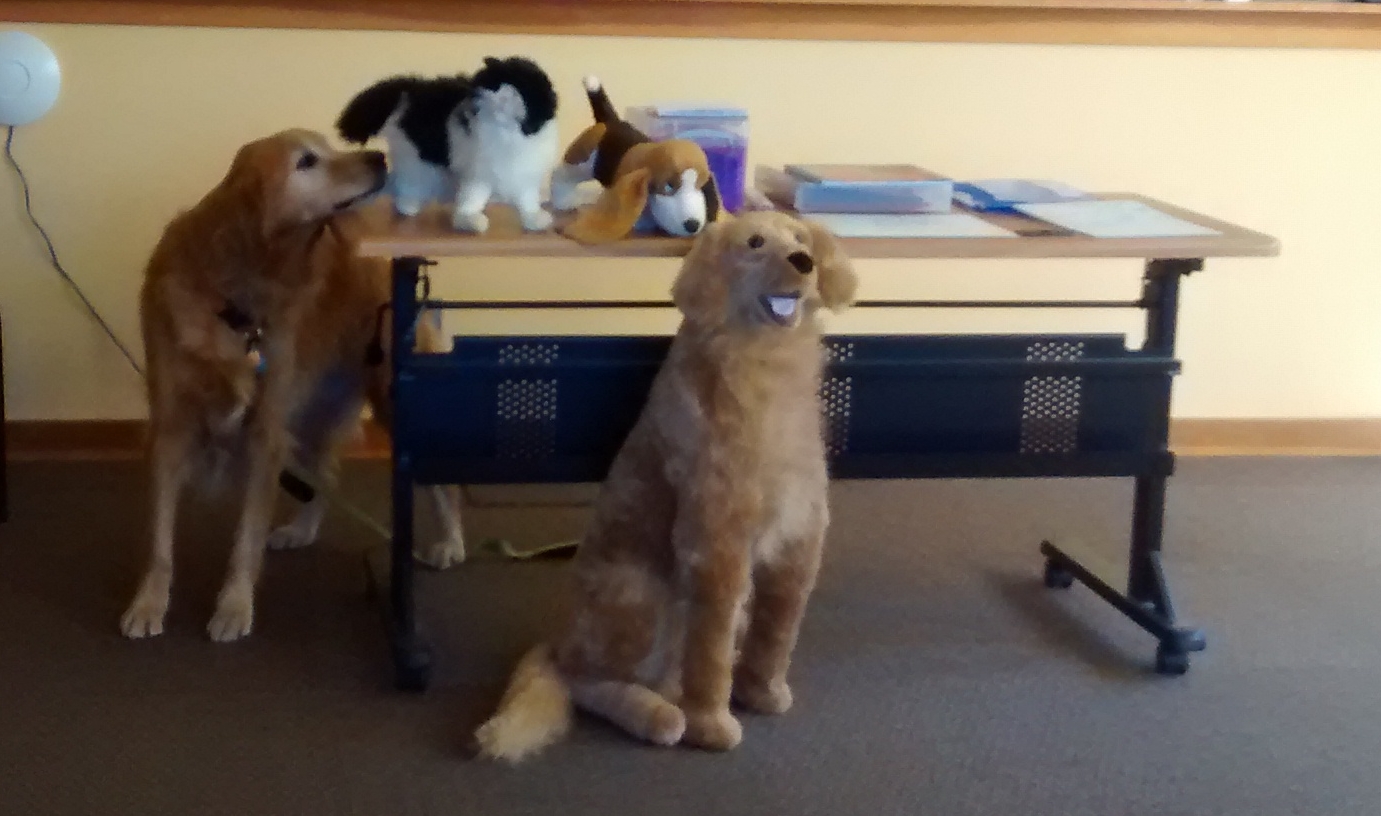 Chester the Golden Retriever and the "fake" pets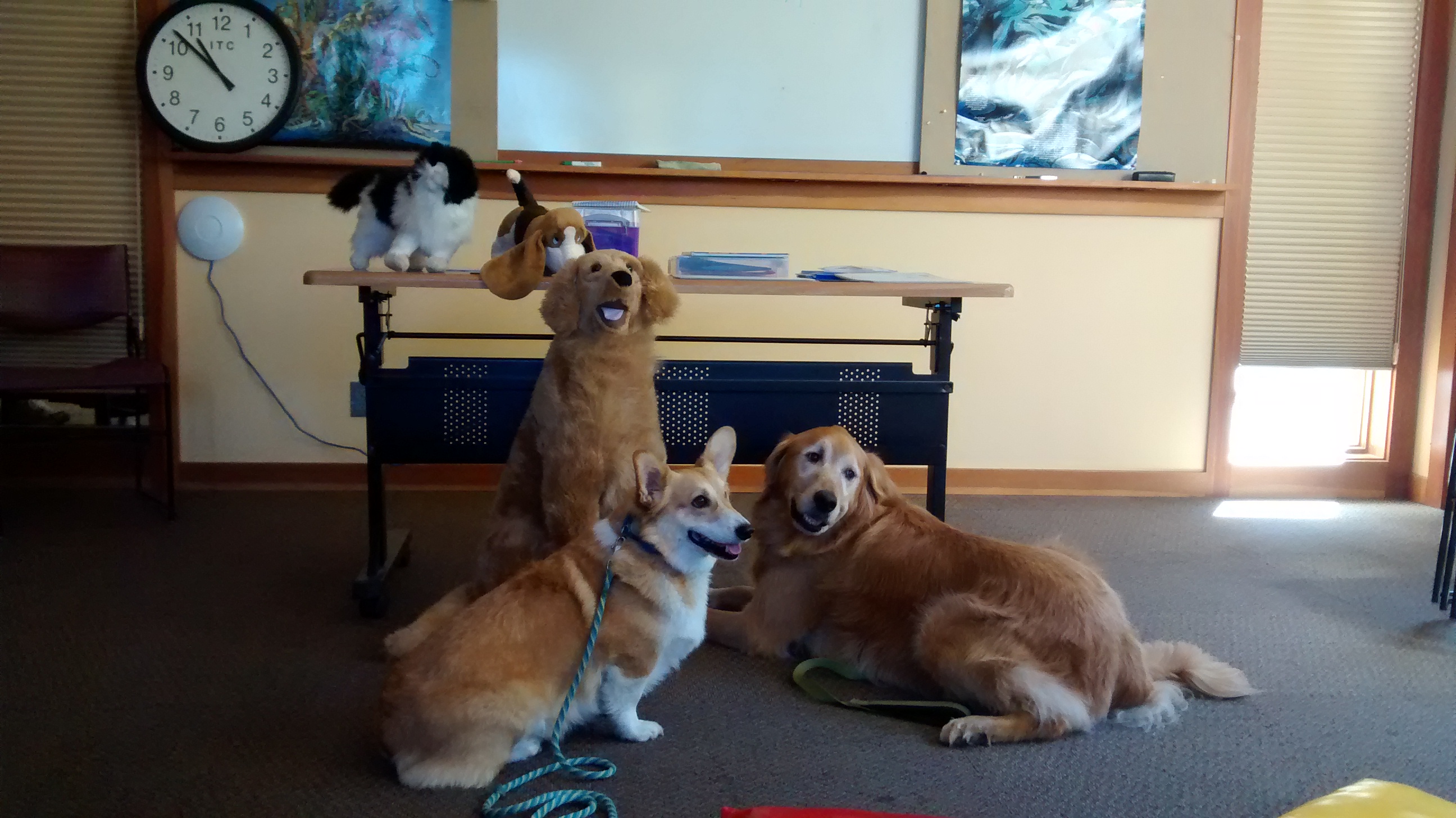 Dusty the Corgi and Chester accept the newcomers.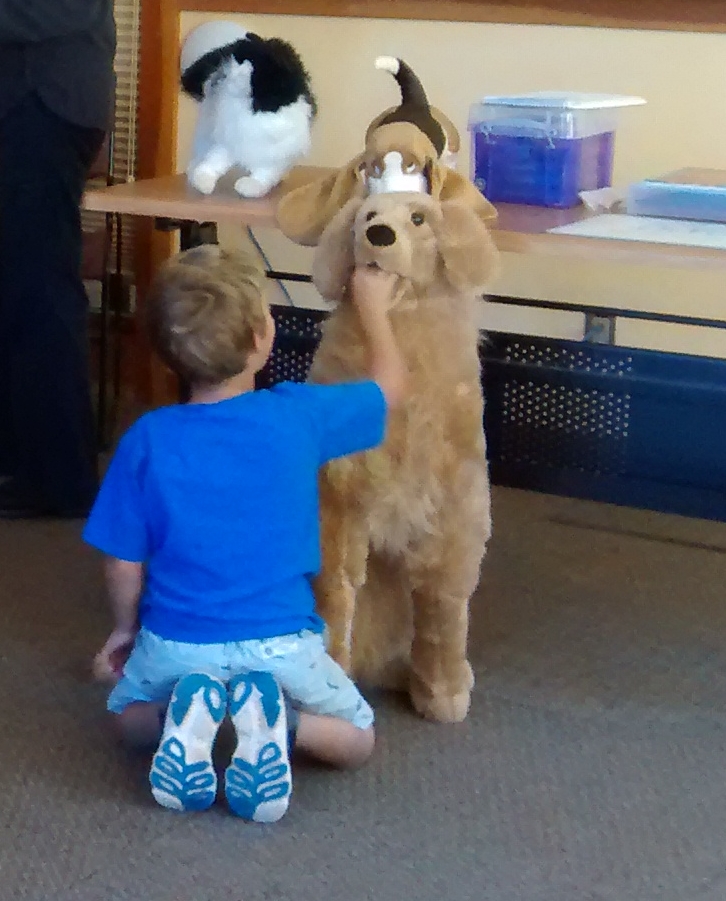 Kids were curious about the "fake" pets, too!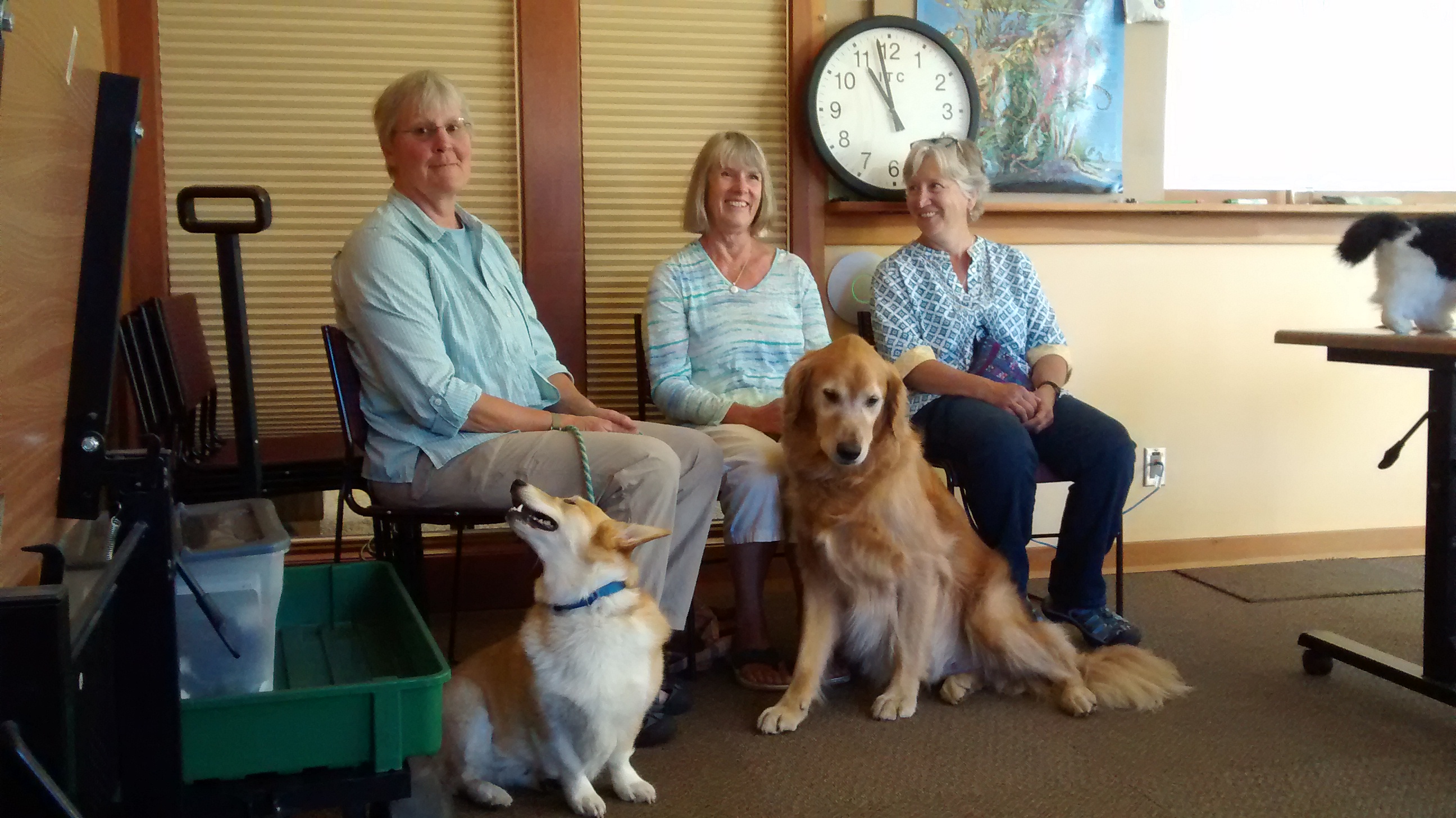 Guest dogs "Dusty" and "Chester" and their companions Beth, Barbara and Anne, wait patiently for folks to arrive.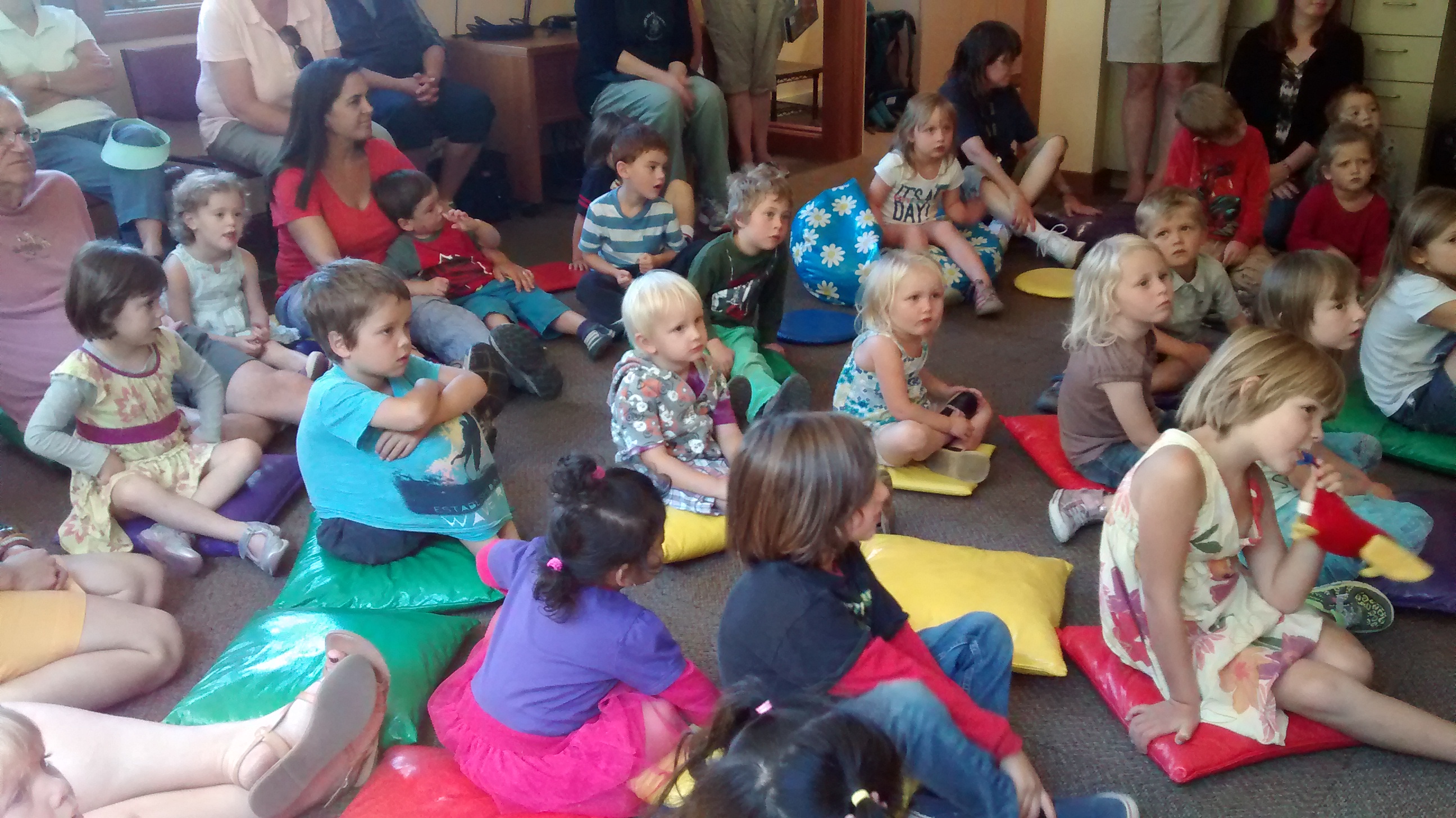 A rapt audience of 30 children and 17 adults settled in to hear Dr. Hodson speak about pet care and pet safety. The first step in greeting a dog is to ALWAYS ASK PERMISSION TO PET SOMEONE'S DOG (or other pet). Next, ALLOW THE DOG TO SNIFF THE BACK OF YOUR HAND.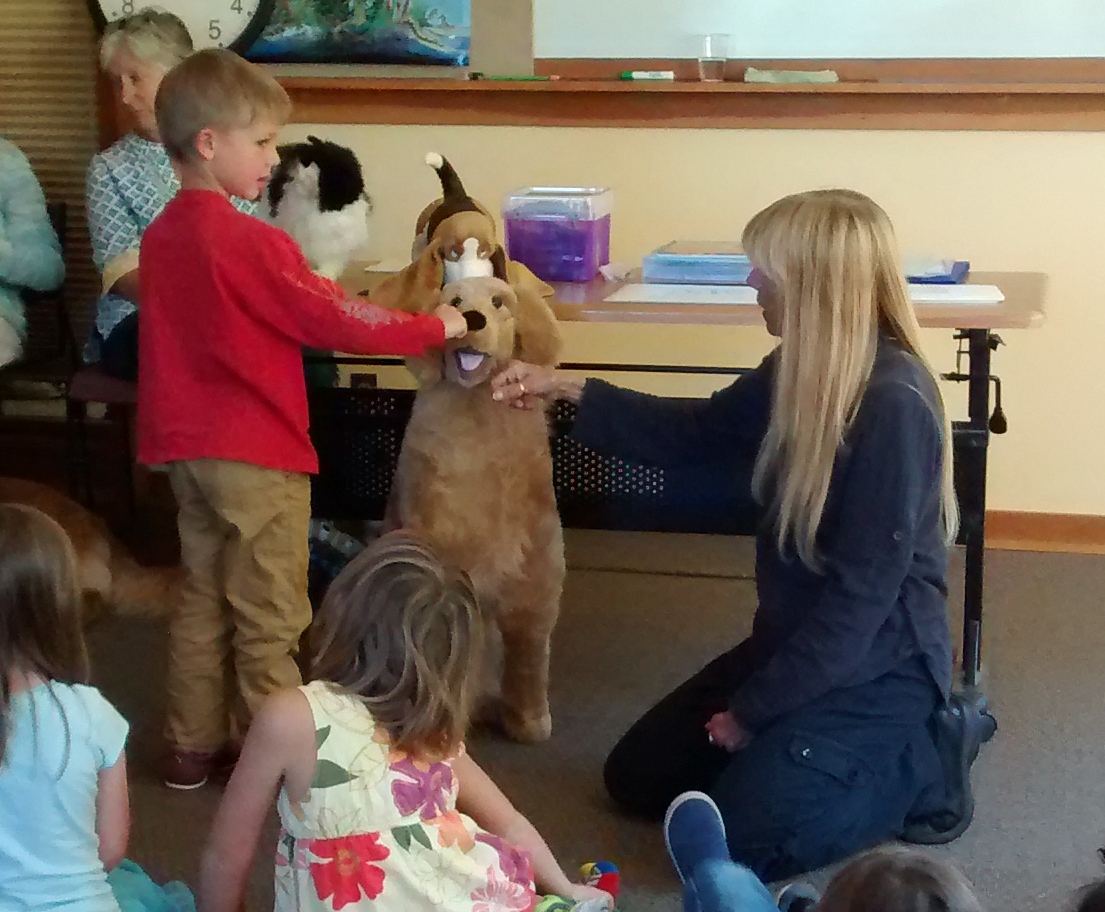 Dogs recognize people by scent more than sight.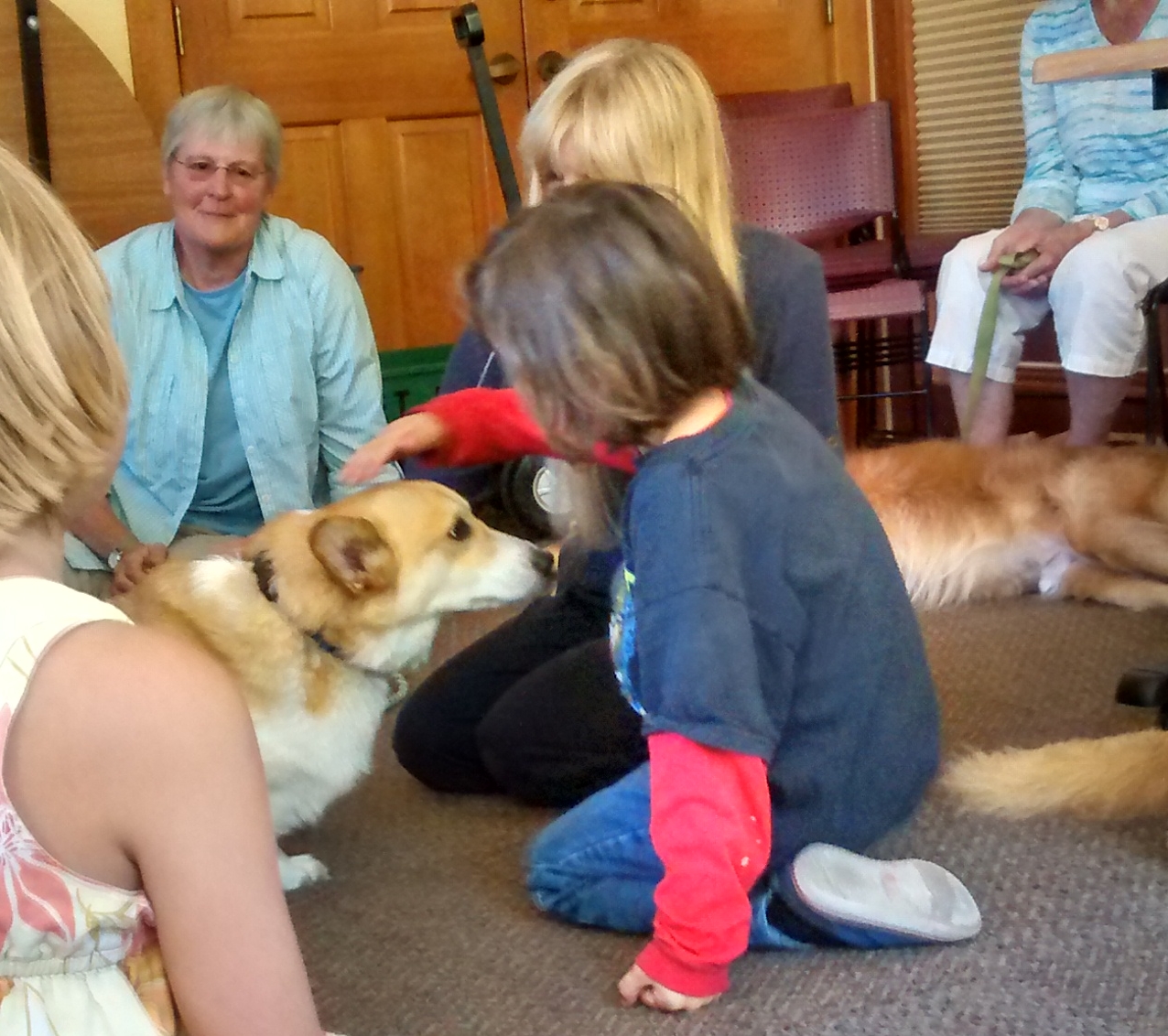 A child pets Dusty on the back of the head instead of around the face. As Dr. Hodson explained, people don't always like being touched on the face, either.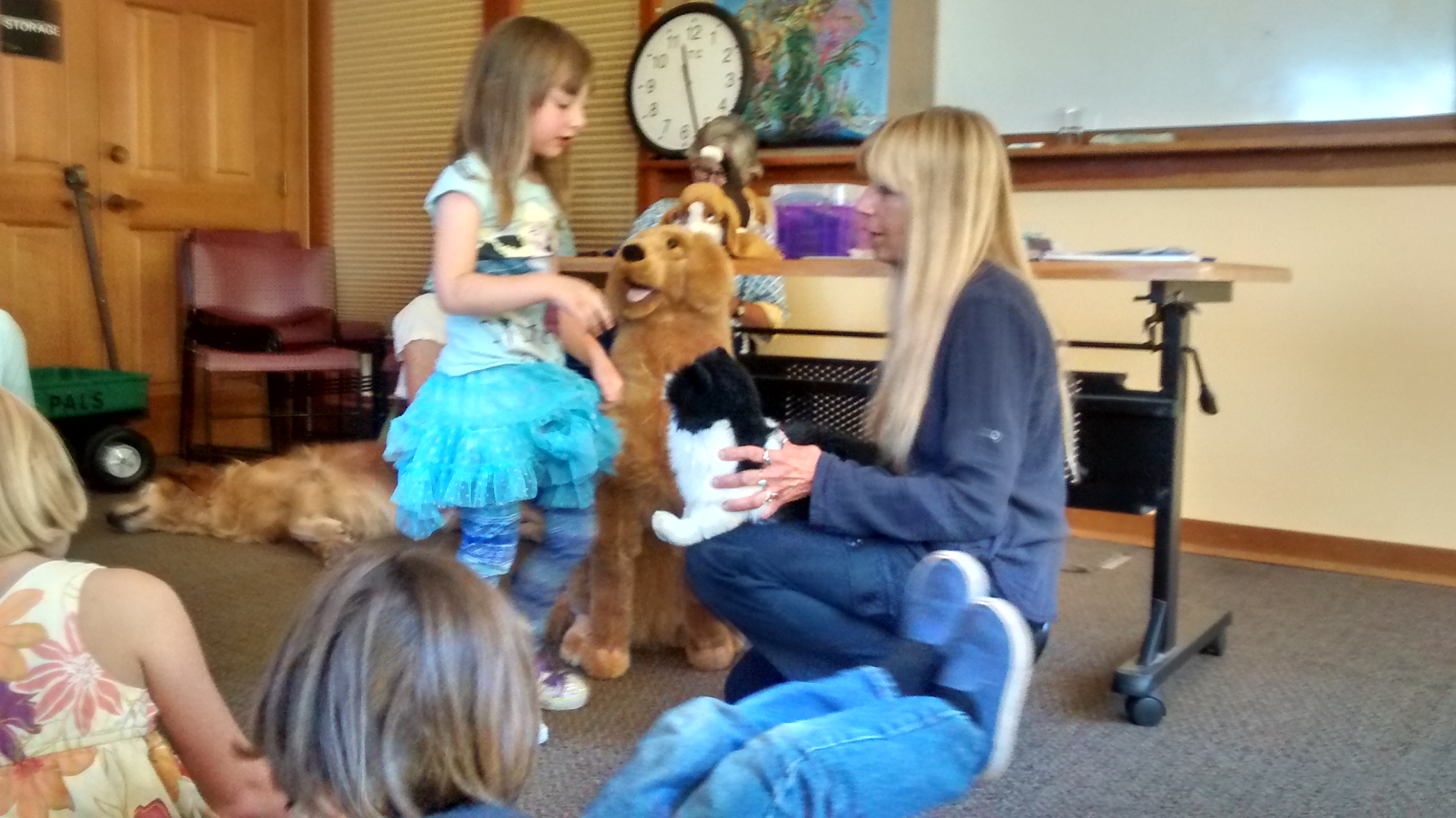 Another child practices asking permission to pet Sally's cat. Sometimes an owner will say "No" if the pet is sick or timid. It's important to politely accept that answer and not pet the animal.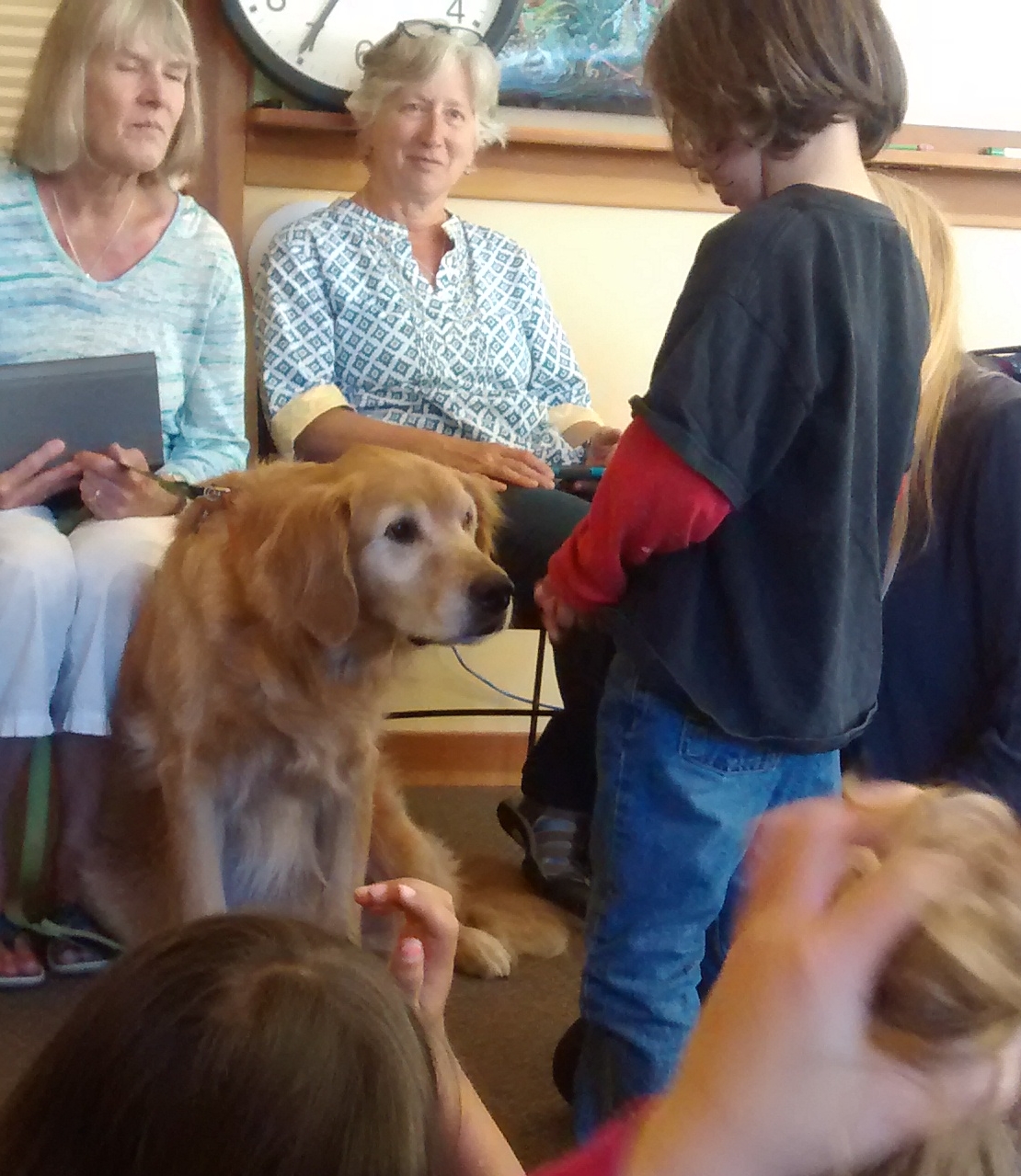 Chester waits patiently for a treat, which should always be OFFERED IN THE PALM OF THE HAND to avoid nipped fingers.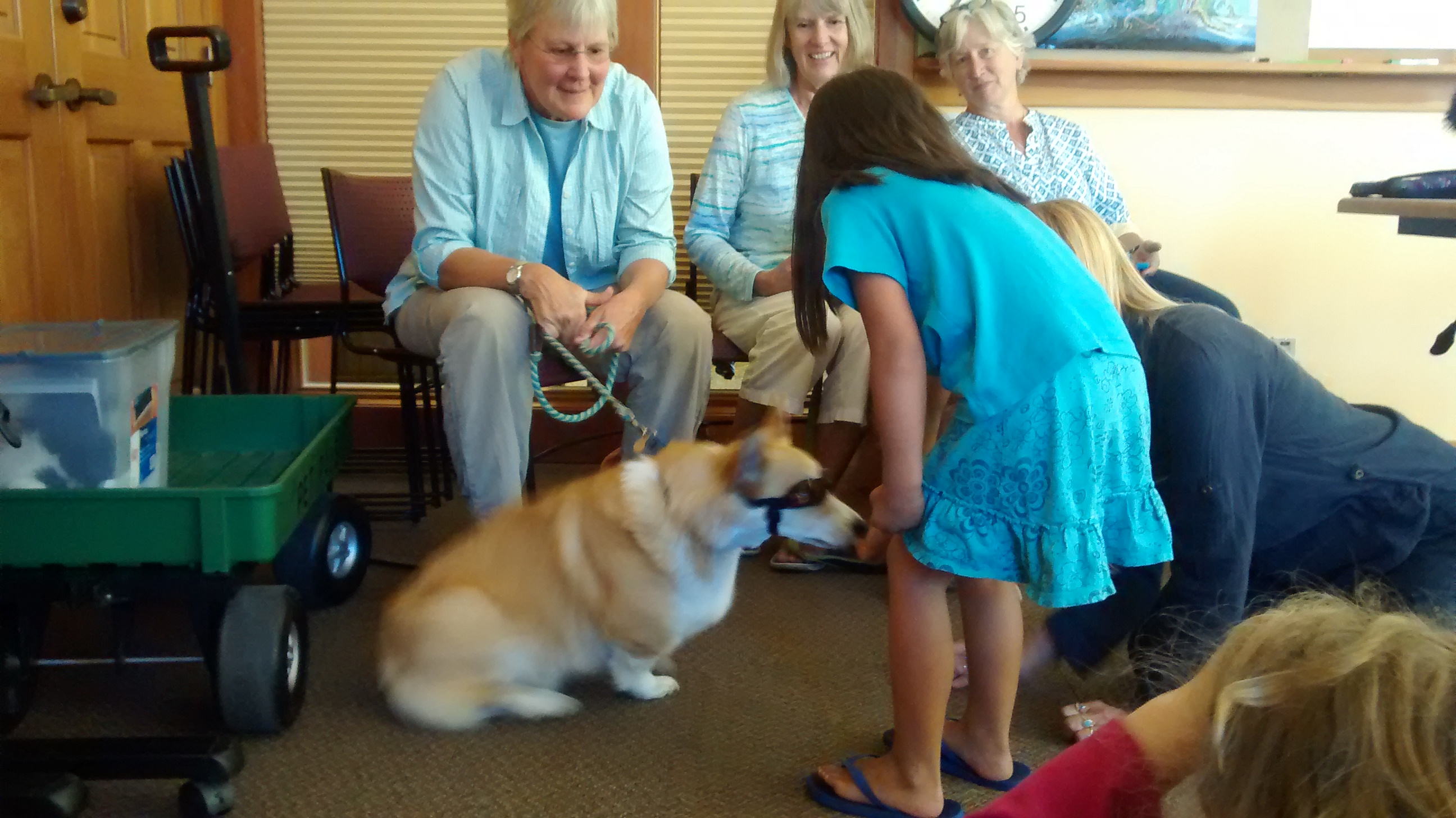 Dusty the Superhero accepts a treat from a girl's palm.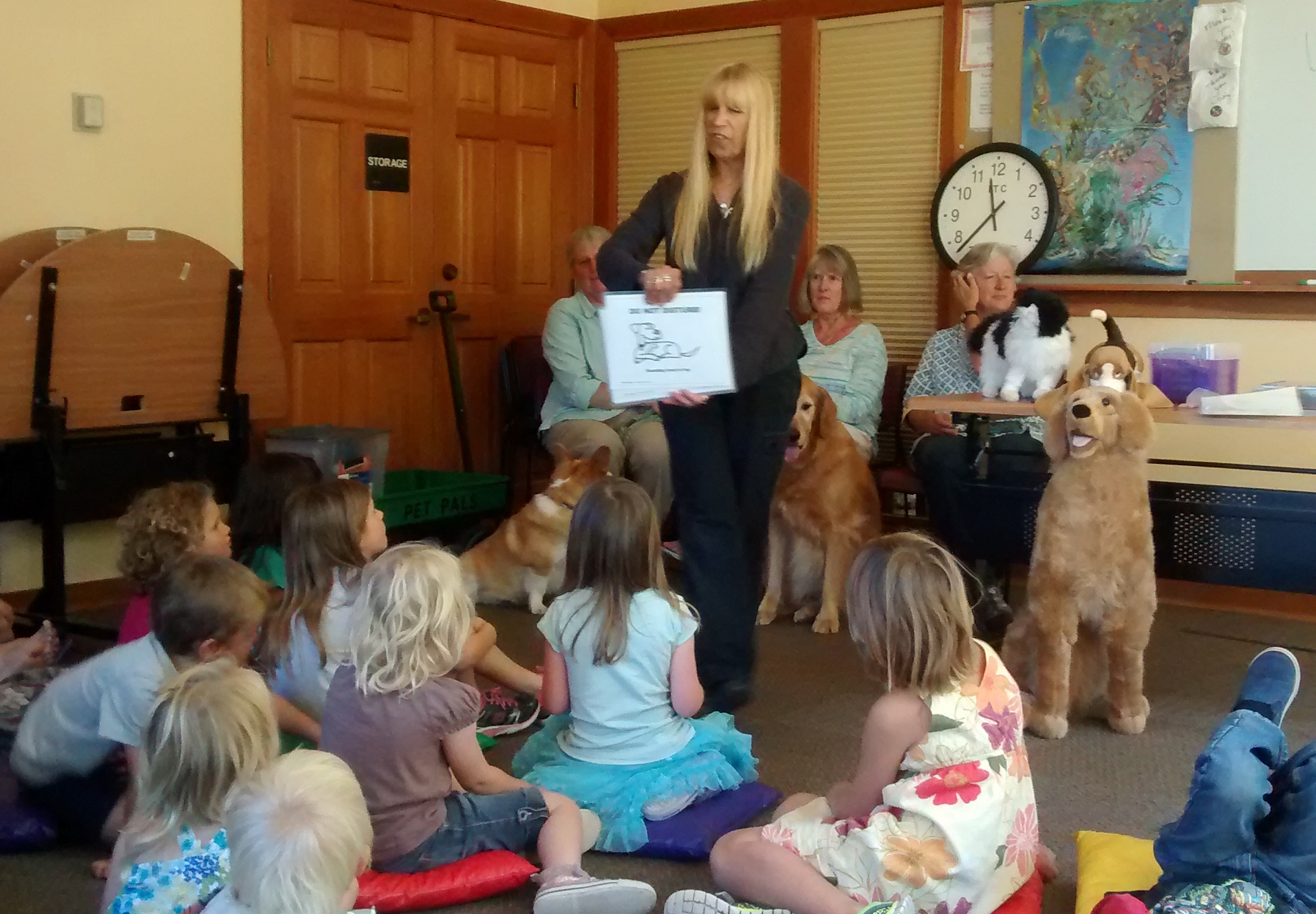 Dr. Hodson shares a flashcard of a dog exhibiting "happy" body language with ears perked and tail wagging. She emphasized that if pets look scared or angry, they should not be approached. An important body language difference between dogs and cats is tail wagging. In dogs, this is a sign of happiness, but in cats, it's the opposite. Don't approach a cat that is lashing its tail.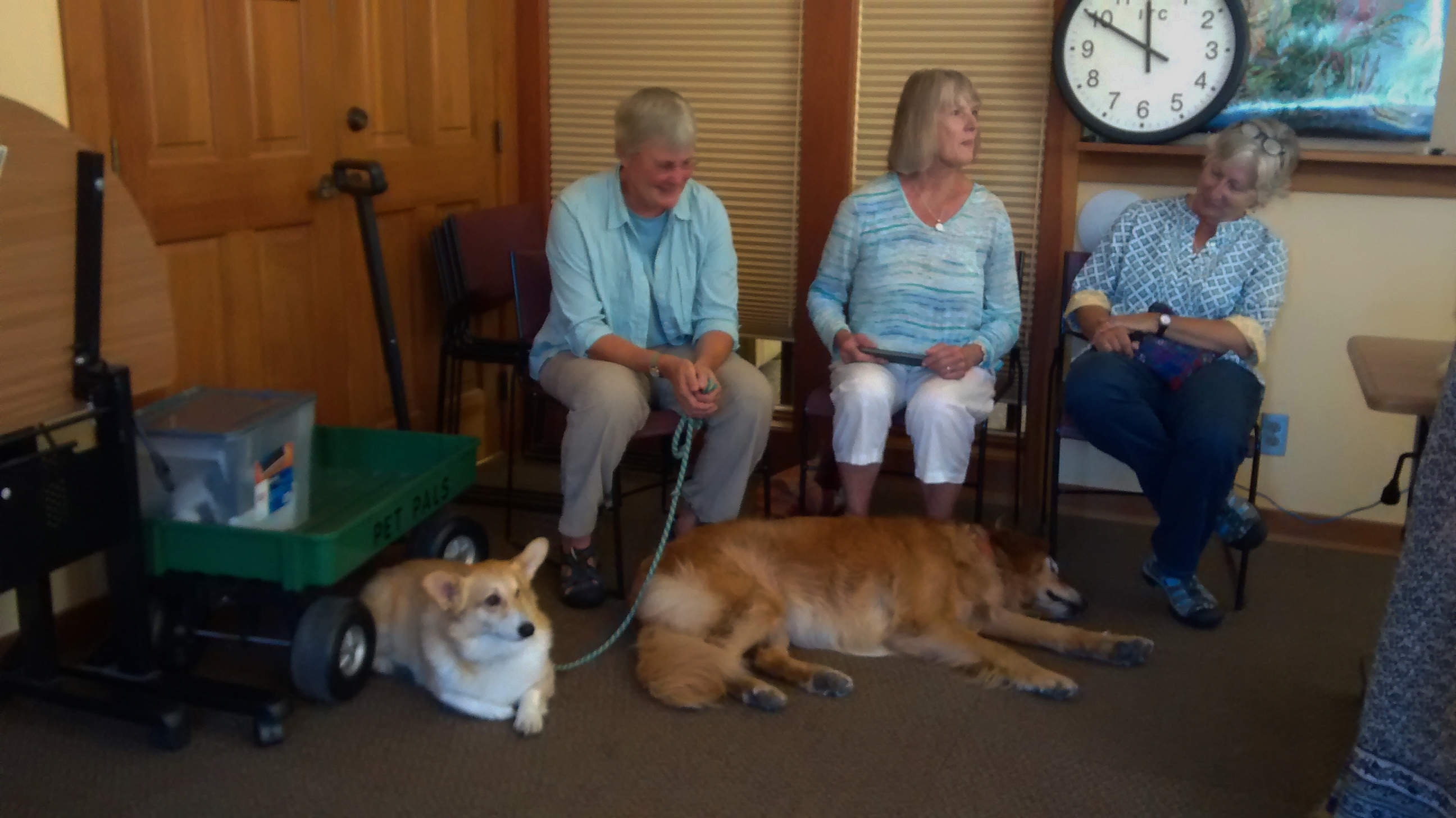 Guest dogs were worn out, but happy, after all the attention and treats!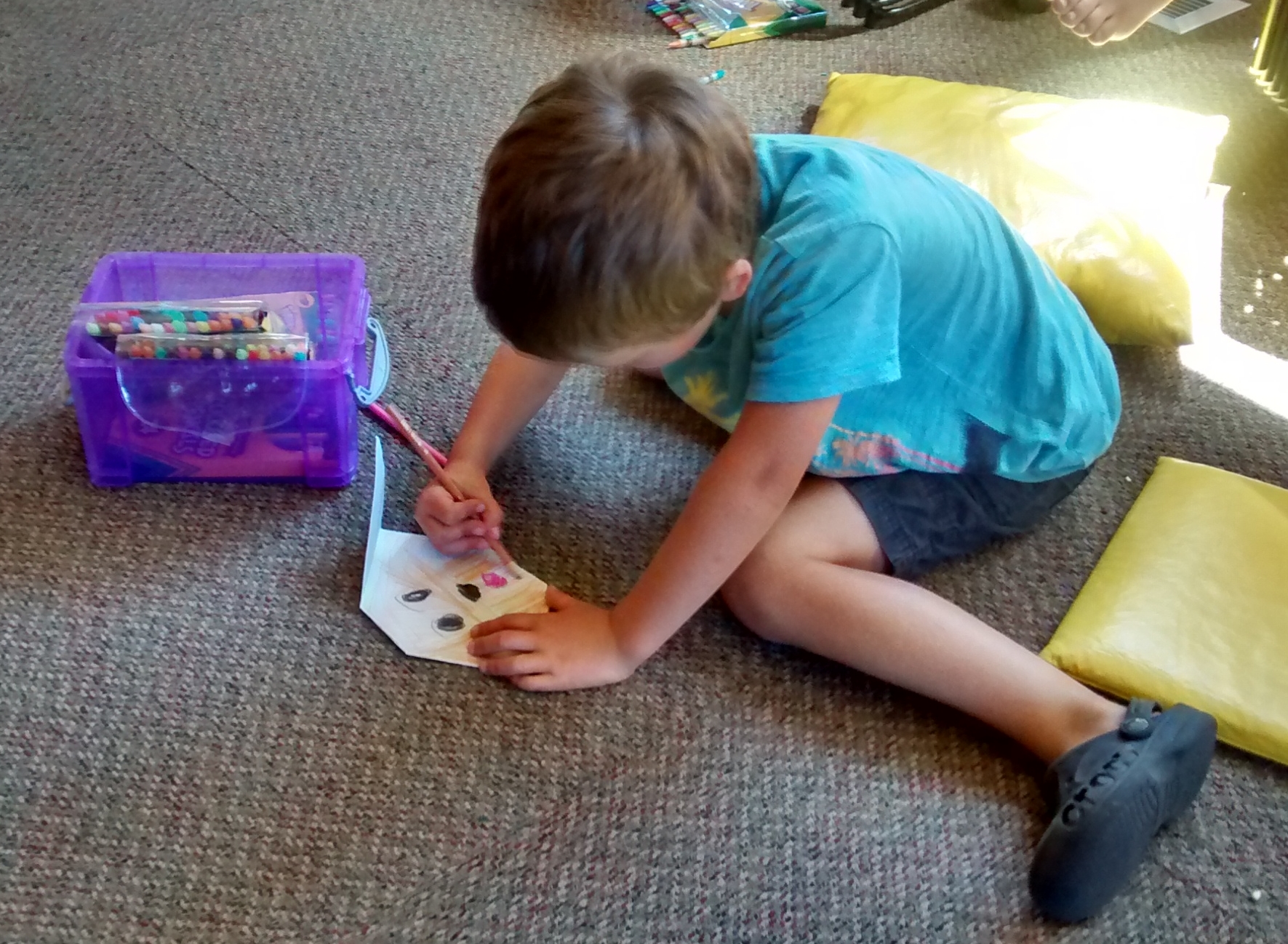 A child focuses happily on his dog origami project to remind him of what he learned.
Lopez Island Library thanks LAPS (Lopez Animal Protection Society) for bringing the Pet Pals program to our attention and the Orcas Animal Protection Society (OAPS) for sponsoring the program. Warm thanks to Dr. Sally Hodson for her valuable presentation. She may be reached via the OAPS at info@orcaspets.org or 376-6777.