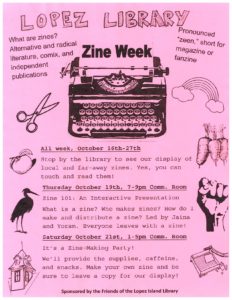 What are zines?  Zines are alternative and radical literature, comix, and independent publications. Pronounced "zeen" – short for magazine or fanzine.  Anyone can publish a zine, including YOU! Got a topic you love? Got something to say about it? Come make zines with us!  Open to all adults and teens.
October 16th – 27th Stop by the library to see our display of local and not-so-local zines. Yes, you can touch and read them! Go here for a list of some of the zines on display: 2017 Lopez Zine Week Collection
Thursday, October 19th, 7-9pm, Community Room, Zine 101: An Interactive Presentation

What is a zine? Who makes zines? How do I make and distribute a zine? Led by Jaina and Yoram, your friendly neighborhood zinesters! Everyone leaves with a zine!
Saturday October 21st, 1 – 5pm, Community Room, It's a Zine-Making Party!
We provide the supplies (collage materials, typewriter, sharpies, paper cutter, copy machines, etc.) and caffeine and snacks to keep you going. Make your own zine and be sure to leave a copy for our display! Feel free to bring your own zine-making supplies to share.
Sponsored by the Friends of the Lopez Island Library