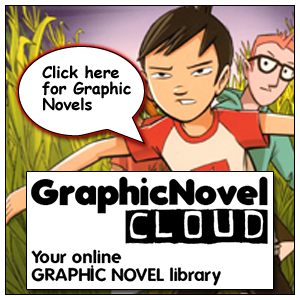 Are you a teen who likes Graphic Novels? Then check out the new TumbleBookCloud on the Lopez Island Library webpage. Go to the library's "Digital Hub" and scroll down to the "Graphic Novel Cloud" icon. The link will take you directly to the book covers of a variety of graphic novels.
TumbleBookCloud is an online database of over 1000 eBooks, chapter books, National Geographic videos, and audio books geared for middle school and high school students of all reading levels. But it is our growing collection of graphic novels which have always been the biggest draw to readers on the site. You can read the books on your computer, smart phone, or tablet.
One middle school patron viewed three graphic novels on TumbleBookCloud and pronounced the site simple to use. He said the books had interesting plots and the well-done art drew him into the stories.
Please note that, although many of the graphic novels on TumbleBookCloud are designated as "All Ages", the website, and most of the graphic novels, are for middle school and high school students and may contain content not appropriate for elementary school students.
This is a free 3 month subscription and we'd love to know if it's enjoyed by our patrons. Please try it out so we can receive feedback about whether or not to continue the subscription in the fall. Check it out!