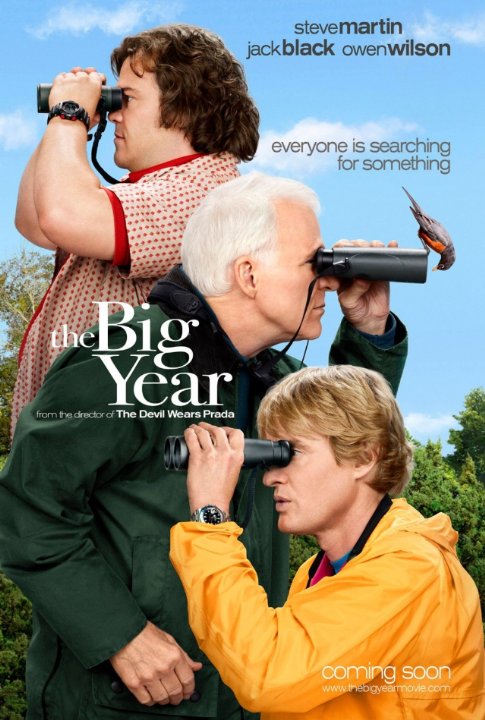 The Big Year
Directed by: David Frankel
Starring: Steve Martin, Jack Black, and Owen Wilson
Rated PG for language and some sensuality
Reviewed by Attie P.
A "Big Year" is an informal competition among birders to see who can see or hear the largest number of species of birds within a single calendar year and within a specific geographical area (usually the U.S.).
Based on the book by Mark Obmascik, The Big Year tells the story of three men who couldn't be more different: Brad Harris (Jack Black), a 36-year-old computer programmer from Baltimore, Stu Preissler (Steve Martin), founder and CEO of a New York big business, and a roofing contractor named Kenny Bostick (Owen Wilson), who holds the current Big Year record of 732 birds. Brad has had a love of birds since he was a kid, and is a skilled birder who can identify nearly any species solely by sound. He finally quits his job to do a Big Year both for himself and to hopefully impress his aging father. Stu, on the other hand, has finally retired from life as CEO of an enormous Manhattan-based chemical conglomerate that he started, and with full support from his wife, starts a Big Year to fill up empty time, and to complete a lifelong goal. Big Year record holder, Kenny, afraid that his record may be beaten this year wants to do a Big Year, but his wife, who is expecting a child, thinks that it will tear their marriage apart. But he goes ahead and does one anyway. Throughout the movie their lives intertwine and laughs ensue.
The Big Year is filled with humor, a little drama, and a lot of cool birds. A perfect family movie for whenever you need a good laugh. After all, any movie with three of Hollywood's funniest actors can't be bad.