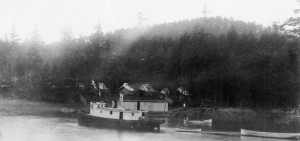 Thank you to Boyd Pratt, Doug McCutchen and Mike Vouri for a terrific evening.  The library is also grateful for the Lopez turn-out (50+) and we hope to see you at future events.  For those of you that couldn't attend the hand-out is attached. Mapping the San Juan Islands
Join Boyd Pratt, Doug McCutchen and Mike Vouri for an evening of viewing 1890s images of the San Juan islands by the U.S. Coast Survey's John Gilbert.
Vouri will open the discussion with a look at the first survey of the islands by the Coast Survey's naval assistant, Lt. Cmdr. James Alden, and surveyor and map maker George Davidson operating from the U.S. Coast Steamer Active from 1853-1860. Pratt will follow with insights on Gilbert's land-use T-sheets. McCutchen will then present a series of slides that capture from the same perspective today the sites of Gilbert's images.