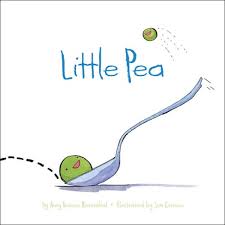 Little Pea, by Amy Krouse Rosenthal, illustrated by Jen Corace (2005)
(This review is for Rosie)
Are you having trouble persuading your children to eat vegetables? Would they rather eat sweets? Check out the picture book Little Pea and prepare for a change in attitude.
Little Pea lives happily with Mama Pea, Papa Pea and his "pea pals." Rosenthal is spot on with her toddler language as Little Pea screams "Again! Again!" when Papa Pea flings him off a spoon in play. (Who doesn't remember peas flying in food fights!) Corace compliments the words with simply exuberant illustrations that animate the peas into personable characters.
Little Pea also likes rolling down hills and cuddling with Mama Pea, "But there was one thing that Little Pea did not like …"
You and your little one will be surprised by this revelation and delighted with the ending of this sweet and clever story. So curl up with this book and a snack … but maybe not sugar snap peas.