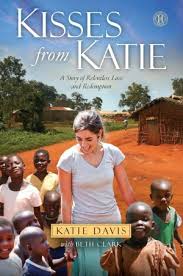 Kisses from Katie: a story of relentless love and redemption, by Katie Davis
Reviewed by Kari A.
Katie Davis had the "perfect" life. Popularity, a loving family, a boyfriend, and a successful future all planned out. Perfect by some standards. But her heart had a special ache for mission work. For helping the helpless, feeding the hungry, healing the hurting, and loving the unloved. And to follow her calling, this 18-year-old skipped college, left home, moved to Uganda, adopted 13 children, and continues to love all the beautiful people around her every day. This is the story of an ordinary girl, doing extraordinary things for people in need.
This book is amazing. It was sitting in my house, unread for quite a while, but once I picked it up, I couldn't stop! Reading this book was a great way to start my day, inspiring me to live my life to the fullest. Through all the unknown fears she faced, the homesickness, and all the tough choices, I could relate on a small level. But other times, her story blew me away. Like when she returned to the States, only to find herself empty and miserable, or when her daughter was taken from her, and when she washed and cared for a dying child. Amazing is the only word that comes close enough to describing Kisses from Katie.
So… I highly recommend this book to anyone! It was humorous and exciting, full of adventures, but deep and meaningful at the same time. Young and old, guy or girl, you will not be disappointed.