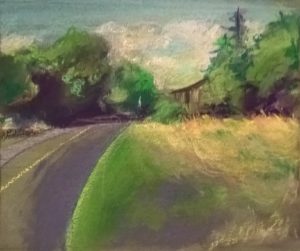 The four artists in this month's library exhibition began to meet to paint informally at Ginny Neece's studio on Lopez Island a year and a half ago. These include:
Liz Taylor
Ginny Neece
Joyce Lyster, and
Joan Giard
Then Colin and Moira Goode invited us to their home/studio each week. Under Colin's gentle guidance and magical twinkle, we took risks, tried new mediums, critiqued each other's work, and delighted at having a community of friends in a warm, cozy environment in which to challenge ourselves as artists.
Shortly after Christmas 2015, Colin was scheduled for heart surgery.
One day while in the hospital, he smiled at Moira and told her, "I love my painting ladies!" When Moira told us, we were delighted. We hoped for his quick convalescent and return — although it wasn't to be.
Sadly and unexpectedly, Colin died in the hospital on February 2, 2016.  We continue to paint together each week, but we miss him greatly.  In his honor, we dedicate this month's art exhibition at the library to Colin Goode.
About Colin Goode: Colin painted for over fifty years, but he did so more intentionally over the past fifteen years. He and Moira moved from Whatcom County to bucolic Lopez Island in 2001, where they opened an art Gallery and Studio in Lopez Village.  He became well known for his paintings and teaching on Byzantine Iconography and landscapes in acrylic and oil over the years.
In Colin's own words:
"Dostoyevsky claimed a fundamental philosophical tenet
that regards beauty and truth as one. Painting with passion
is one of my goals, in the hope that I will convey beauty, truth,
and tranquility through my work."