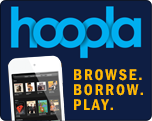 Download the free Hoopla app or visit hoopladigital.com to signup for thousands of newly released music albums, movies, tv, and audiobooks.  Your library card is your ticket in!  No waiting. No holds. Immediate access for your viewing/listening enjoyment.  Don't have a high-speed connection at home?  No problem!  Come to the library to download for offline times on the road or ferry.   You can checkout 4 items a month with Hoopla – any combination of music, movies or audiobooks.  Movies checkout for 3 days; Music albums for 7 days and audiobooks for 21 days.
All you need is a library card and a web browser, phone, or tablet.
No more scratched discs or losing CDs in the car. Signup today with your 14 digit library card number  to enjoy access to a variety of formats, courtesy of the Lopez Island Library!  See local computer guru Glen Maxson's review on Lopez Island Tech blog.