All of us in the book business have a publisher we are partial to for one reason or other – one that always delivers. Craving Science Fiction and Fantasy? I know TOR will help cure the itch. If I'm in need of a Zen moment or Asian tastes and styles? Hello, Tuttle, watcha got for me? And gardening? Well, Rodale is the literary well for my pastures. Two of my favorites come from just this source. Let's start with the gold standard:Want proof of a well-used cook book? Look for food stains on the most loved recipes. Same thing with gardening books. Look for the books that have a lovely, soiled patina.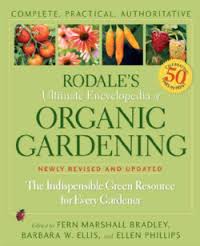 Like Rodale's ultimate encyclopedia of organic gardening : the indispensable green resource for every gardener by Rodale Press. It has been around for more than 50 years offering organic know-how for fruits, veggies, trees, shrubs, lawns and more. The latest version highlights new organic pest controls, new fertilizer products, improved gardening techniques, the latest organic soil practices, and new trends in garden design, and has a completely new section on earth-friendly techniques for gardening in a changing climate, covering wise water management, creating backyard habitats, managing invasive plants and insects, reducing energy use and recycling, and understanding biotechnology.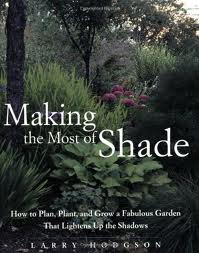 I have to admit it. I love shade. Maybe growing up in the blistering sun of the southwest makes me more appreciative of the shadowy, sylvan glades and fosters my love of the myriad of greens there in. Of course, most gardeners abhor shade. Bring on the sun, they cry and for many plants they need the rays full power like we humans need oxygen. One look around our friendly isle, though, and you'll see: shady areas abound! One book I heartily endorse is Larry Hodgson's Making the most of shade : how to plan, plant, and grow a fabulous garden that lightens up the shadows. Even the dimmest corner of your own particular patch has a plant that would shine in it, given the chance. Hostas, ferns, and a variety of flowery shrubs and flowers and some herbs can thrive in dappled or even full shade. All I am saying, is give shade a chance…
My third pick is not from Rodale's, however, as it is a fairly revolutionary although it has been around for almost a century and involves creating an aerobic water solution that has extracted the microbe population from compost along with the nutrients. It is called "compost tea" and is basically just a concentrated liquid created by a special brewing process to increase the number of beneficial organisms for an organic way improve soil and plants in a spray form.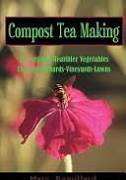 The book is, Compost Tea Making: For Organic Healthier Vegetables, Flowers, Orchards, Vineyards, Lawns by Marc Remillard, Want a great guide through the often conflicting world of "compost tea?" Remillard makes this challenging but rewarding tool more straight forward. I didn't say simple! Lots of online info on this topic but this book distills the steps and the science behind it. So brew up a batch soon. No need for a special invite. The earthworms will come crawling to this tea party! Happy garden; happy gardening!