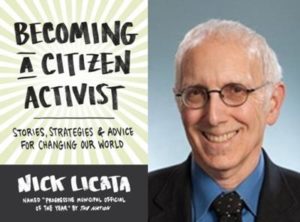 Are you unsatisfied with the status quo? Learn strategies to get organized, take back power, and change the world.. On
Thursday, February 15th at 6:30pm at Grace Episcopal Church
, Nick Licata, former Seattle City Council member and one of the city's most effective leaders of political and social change, will speak about his new book,
Becoming a Citizen Activist: Stories, Strategies and Advice for Changing Our World.
This program is sponsored by the Friends of the Lopez Island Library as part of the library's "Get Informed, Get Involved" series. Whether you're a budding teen activist or been in the trenches of social justice for years, come and be inspired to change the world!
Childcare is provided.
The Lopez Bookshop will sell books at the event.