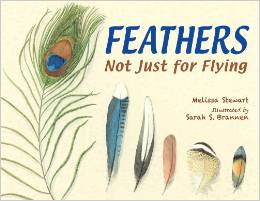 Feathers: Not Just for Flying, by Melissa Stewart, illustrated by Sarah S. Brannen (Charlesbridge 2014)
From endpapers illustrated with soft sepia feathers to content diversified with simple large print sentences and smaller, more detailed comparisons to variously framed art to final glossary and author's note, this book is a labor of love, designed for people of all ages. The opening sentence sets a tone of fine literary nonfiction with facts couched in lyrical language: "Birds and feathers go together, like trees and leaves, like stars and the sky. All birds have feathers, but no other animals do." This two-page spread also foreshadows the individual species to come and their size differences with a row of feathers: from the large peacock to the small dark-eyed junco.
Stewart explains her title succinctly in the second paragraph: "Most birds have thousands of feathers, but those feathers aren't all the same. That's because feathers have so many different jobs to do." Readers learn many facts about feathers, always in comparison to common objects. One of my favorites is the page on the willow ptarmigan, whose feathers allow them to "sprint across the snow like snowshoes." The sidebar fact – nestled in an artful snowflake frame – informs readers that these northern birds "grow a thick layer of feathers on top of their toes." Brannen further clarifies this fact with two drawings: a trio of the densely-feather-footed birds and a line of human snowshoe tracks.
Few books for children give such attention to the details of scientific observation and note-taking, rarely providing captions for the names of birds. Stewart provides this and more, including the exact place the illustration and information was taken, often from her own observations. For example: "Red-tailed Hawk, Shiprock, New Mexico". Indirectly, readers learn about the birds' specific habitats from Brannen's illustrations.
The "Kinds of Feathers" glossary promotes a philosophy of continual learning by sharing that scientists are discovering new facts every day. Stewart and Brannen show us one way that scientists classify feathers, from tiny, sensory filoplumes to large flight feathers that give birds lift and maneuverability.
I was fascinated by the author's note on how she came to write this book. The idea came from an article she read while doing research for another book. Primary sources for this book included library materials, the Internet and her own nature observations. She also interviewed scientists. Stewart then spent three years writing and rewriting the text, always asking herself how she could make it more engaging. When she finally "latched on to the idea of comparing feathers to common objects in our lives" she knew she'd found her unique theme. In many ways, writing picture books is more difficult than writing longer books because so much information must be condensed into clear, engaging sentences.
Feathers: Not Just for Flying flies high in the field of literary nonfiction for children – and adults. Educators will find it an ideal source for units on nonfiction (including text features), nature, and birds. The diversified text allows it to be used for beginning and more advanced primary readers. The warm illustrations are pleasing to the eye and informative. The layout is engaging and easy to follow, and may inspire students to create similar information posters for the birds (or other animals or plants) in their own backyards. Kudos to Stewart, Brannen and Charlesbridge for a masterful collaboration.