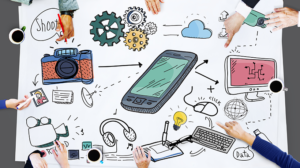 Introducing Free Tech classes – TECH MADE EASY!
These classes are provided by Rock Island Communications and held in the Lopez Island Library Meeting Room from 10:30am – 12:30pm.
Friday – Feb 16
iPhone Tips and Tricks
With the release of the first iPhone just under ten years ago, a revolution took place in how we communicate with each other, how we receive and process information and how we entertain ourselves. In this seminar we will take a look at some of the various devices on the market, the pros and cons to the different operating systems and a quick look at the ways, benefits in syncing our photos and content.
Swiping, Multitouch, Tapping.
Basic concepts in syncing photos, videos and music
Managing limited space
Friday – March 16
iPhone Photography
Today's iPhones have very capable cameras. However, most of its features are not necessarily obvious or easily found
Let's explore what can be done on just the iPhone's camera and the apps that can take better advantage of it.
Friday – April 13
Photo Editing and Organizing in Apple's Photos App
Get your photos organized into albums and events.
Learn about the different file formats – their advantages and disadvantages. Learn how to crop, brighten, enhance and share your photos.
Friday – May 11
Smart TVs, Streaming with Roku, Apple TV, Amazon Firestick and More
Get a better handle on how to forego cable and satellite.What's possible? What isn't?
Get to know your remote control and why are they so hard to use?
What are the advantages and disadvantages?
What about my favorite channels?
Friday – June 15
Email Tips and Tricks
Good email habits keep you and your contacts safe.
• Learn about attachments, CC, BCC and correct email forwarding etiquette.
Learn how to share websites, Facebook posts and pages and more.
What's the difference between Webmail and an Email Client?
Friday – July 13
Web Browsers and Internet Security
Get the most out of your Web Browser.
Learn how to use Tabs, allow or block Pop-Ups and improve your web surfing experience.
forming good online habits, learning what to avoid, malware prevention
secure password creation and how to organize those passwords.
Monday – August 10
Facebook Tips and Tricks
In this class we will talk about various aspects Facebook.
Its uses, etiquette, what to do and not do.
How it can be used for staying in contact with old friends and family as well as an online presence for businesses.
Monday – September 14
Cloud Computing and Backups
This class covers Cloud computing. The concept, ins and outs, advantages and disadvantages as well as other computer backup options.