The Lopez Libra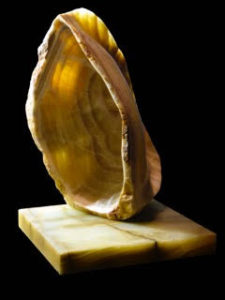 ry is pleased to feature the sculptures of Rick Wigre. His show, titled "CLAY, STONE, AND GLASS" will run from January 12th, 2018 to February 22nd, 2018.
In his words: "In 1972 I came to Lopez Island and found an inspiring place to paint and live on the south end. At that time, I was working on large abstract paintings for a Seattle one-man show. I continued showing throughout the Pacific Northwest while also working with and learning from artists like William Morris and Margret Tomkins.
Since the 70's I've studied many other art medias: computer graphics, animations, graphic design, photography, drawing, painting, ceramics, glass blowing, stone carving, print making and more.  I never would have guessed that my exploration in the arts would involve teaching, but over the years teaching has played an essential role in the development of my art.
I completed a degree in Broad Area Art Education at Evergreen State College and Central Washington University. In 1984 I started teaching art in high schools, and enjoyed a successful teaching career for 32 years.  In that time, I received these awards:
Washington State Art Teacher of the Year 2015
Advisor of the Year for Washington State, 2009, for Washington Technology Student Association (TSA)
Teacher of the Year, 1992, for Washington State in Technology presented by IBM and Technology and Learning Magazine
National Award for Teaching / Advisor of the Year, 1989, presented by NASA and National Science Teachers Association for Intergraded Curriculum 1989 at the Senior High School Division
National Award for Teaching / Advisor of the Year, 1989, presented by NASA and National Science Teachers Association for Intergraded Curriculum at the Junior High School Division
Who's Who in Education, 2001, 2004, 2010
My teaching career enabled me to explore at the exciting edge of technology and traditional arts.  Within the last four decades, technology has transformed the visual arts.  You'll see that change in my work through the years. I truly enjoy exploring all of these new medias, creating and helping others to create." – Rick Wigre