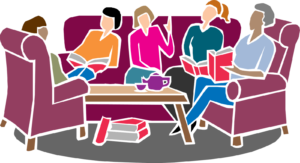 Need a copy of your book club's latest selection? You have options!  Check with your library:
1. Get a print copy or audiobook version from our library
2. Check out ebook readers and e-tablets to listen or read, free of charge!
3. Titles are always available through Hoopla Digital, inquire!
4. Check out your selection at  Overdrive's Washington Anytime Library, either on your device or one of ours? Never used a digital device? No problem! We'll set you up!
Remember, we are happy to take requests! Send your inquiry to lpray@lopezlibrary.org