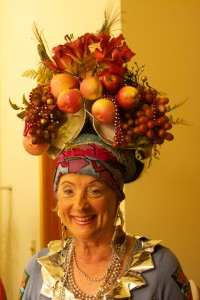 In 2012, SWAP (Solid Waste Alternatives Program) presented the first-ever Lopez Trashion-Fashion Show. There were three rules for entry: items of apparel had to be fashioned from recyclables or repurposed materials, had to be wearable, and had to be modeled on the runway of Lopez Center at the Trashion-Fashion Show. Lopez fashionistas responded with a degree of creativity that astounded even a Lopez audience…and Trashion-Fashion became an annual "must see" event.
From materials to design to fabrication, the Trashion-Fashion ensembles take "couture" to new heights…and perfectly reflect the island's enthusiasm for recycling and repurposing. Every creation illustrates the value that can lie within the overlooked and the discarded, needing only a different purpose, a fresh approach, or an artist's eye to realize a wholly new existence.
From September 25th through November 6th you can view and enjoy these spectacular pieces throughout the Lopez Island Library.