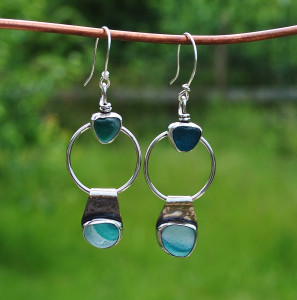 The Lopez Island Library presents Inspired by the Sea: Beach Combing Around the World, the photography and beach glass jewelry of artist Shannon Hoffman.  Shannon travels to many parts of the world searching for beach glass, stones, agates…….gifts from the sea. Like the sea, her work is full of movement, varying lights and color. Each piece represents a sense of earthly place from somewhere in the world.  The artwork featured in the library is accompanied by photographs taken on her travels.
Shannon describes her process:  "I love to create. It is my relentless need to create that guides me through life. I find my inspiration in the processes and perfection of the natural world. There is so much amazing art in this world but to me it all pales to the unsurpassed talents of Mother Nature. I feel it to be an honor to take a gift from nature – a well-tumbled piece of beach glass, a twisted piece of driftwood, an interesting stone or an eye-catching agate and turn it into art that someone is proud to display.
From the moment I moved to the San Juan Islands I was instantly addicted to beach combing and collecting sea glass. Being from the Midwest it opened up new avenues of creativity and mediums to allow my pallet to evolve. When I began making sea glass jewelry in 2006 all of my glass came from beaches of the San Juans. Years later, as sea glass is becoming rare, now I travel the world beach combing. I have collected sea glass from Italy, France, Spain, Morocco, Ireland, Scotland and England. Please read my travel blog on my website if you are interested in my journeys. I tell people that I am lucky, I consider myself to be a professional beach comber. It's tough work really, all that nature and fresh air on beaches far and near! Does it get any better? Not for me…."
Stop by the library to view the work of this gifted artist.