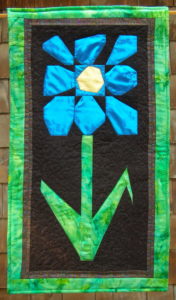 The Lopez Library is pleased to feature the quilts of Edi Blomberg. Her show, titled "SMALL STITCHES: QUILTS FOR WALL OR TABLE" will run from January 12th, 2018 to February 22nd, 2018.
In her words: "I was raised in Massachusetts, lived several years in Colorado, moved to Washington in 1967 and to Lopez Island less than two years later.  I have a daughter, a son and one granddaughter, all of whom make me proud. 
Although I made a few quilts for my family in the 1970s, it was this century before I really became a quilter.  Meanwhile I had dipped my fingers in many other crafts, most having to do with textiles and with color always an important feature.  Now that I am retired I spend time in my studio almost daily.  I see possible quilt designs in the world around me wherever I go.  After concentrating on traditional patterns I have begun to bend the rules.  More and more frequently I have been designing my own pieces.
Making quilts is a great activity, something that I feel is both art and craft.  Planning the design and choosing fabrics is my creative outlet.  I find the repetitive acts of cutting and sewing meditative.  Many quilters make their quilt tops and send them out to be quilted by a professional but I prefer to do all of my own work." – Edi Blomberg