The Lopez Library is pleased to feature the photography of Scott Hatch and the mixed media of Ruth van Doren. Both shows will run from December 1st, 2017 to February 22nd, 2018.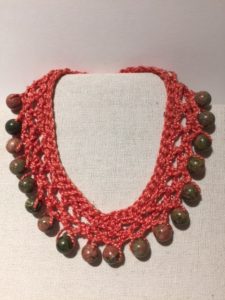 Ruth van Doren's show titled "BOOKS + BLING" will be in the cabinet. In her own words: "In the 1960's, my first production crafts were pottery and weaving.  From these beginnings, my skills expanded to include painting, photography, glass blowing, papermaking, book arts and jewelry.  I began to experiment with the multiplicity of ways these different art forms could be combined. All of my work is concerned with the unique relationship of very dissimilar materials and attempts to demonstrate deeper awareness of the delicacy and interconnectedness of all life." – Ruth van Doren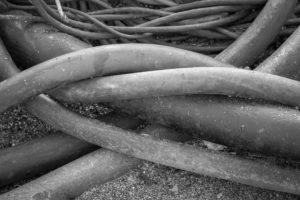 Scott Hatch's photography show, titled "LOPEZ IN MONOCHROME," will be on the walls throughout the library. From the artist: "I have been an avid photographer for almost fifty years.  After learning to develop film and prints in high school, I took courses in college in the history and practice of photography and in one course built an 8 x 10 view camera.  For the next ten years, during my Edward Weston phase, I would only use a large format camera and make black and white prints.  As my careers in construction and house design left less time for photography, I switched back to 35 mm and found that I only took pictures when traveling.  Over the last ten years as I have gradually retired I have been able to spend much more time on photography.
Like so many photographers I have switched from film to digital technology and am just as thrilled by seeing a good print come out of the printer as I ever was in watching an image appear in the darkroom developing tray.  I love the instant feedback of editing images on the computer and I don't miss the chemicals.  Although inkjet printers made printing in color much more satisfying than it ever was in the darkroom, the early models were not very adept at black and white, so I found myself working in color almost exclusively. Current printers, with their multiple grey pigments, now can produce smoother grey tones. I had been thinking about returning to black and white and this show at the Library provided both the opportunity and the impetus to do so. In making these prints I was reminded of how different a black and white image is from the same image in color.  When editing digital images on the computer, it is possible to switch between black and white and color with a keystroke. After working to get the right tonal gradations in black and white and getting to know the image in monochrome I was surprised to see how garish the image looked when I switched back to full color.  I was experiencing anew how the absence of color results in more emphasis on composition, form and texture. Now I am looking forward to continuing to work in black and white.
When I photograph, the end product I am imagining is a fine print carefully matted and framed and hanging on a wall. My early experience with large format photography has fostered a continuing obsession with high resolution, sharply focused images. I print on acid-free100% cotton paper using pigment inks and frame with acid-free matt board and UV protected glass to produce an archival print. I am currently using a Fuji X-Pro2 camera (APS-C 24 MP sensor) and some very fine Fujinon lenses.  I edit the photos with Lightroom software that allows me to make the same sort of adjustments (cropping, dodging and burning, changing contrast and color, etc.) that I used to do in the chemical darkroom in a lot less time with much more success. In order to get enough pixels to maintain detail in the panorama photos I stitch three or more photos into a single image." – Scott Hatch