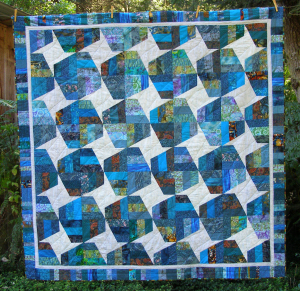 For artist Edi Blomberg it's the colors that are important. She experimented with colors dying and knitting handspun yarns and with colors on paper or canvas, but when she shifted to fabric she had found her niche. For Edi, the process of planning and choosing the fabrics, the colors, is a wonderful creative outlet.  The repetitive acts of cutting, piecing and quilting are meditative and she considers making quilts both art and craft.
Edi began sewing at age 12 but didn't try quilting until shortly after moving to Lopez Island in 1968. In the next few years she made a few quilts for family members, but then life in general intervened. She returned to quilting as she approached retirement and discovered a new world had come into being. New fabrics, tools, techniques were available and the new creative world of quilting laid out in front of her was truly exciting. Returning to quilting she made up for lost time.  She spends at least a little time in her studio daily and there are generally several projects under way simultaneously.  Edi explained, "I make many small pieces that are hung on a wall or displayed on a table which allows me to try new ideas on a small scale. My larger quilts are lap quilts that can also be used as wall hangings. Many quilters make their quilt tops and send them out to be quilted by a professional. I prefer to do the whole process from start to finish myself."
Once the quilts are finished, she has another problem: what should she do with them? Edi prefers to have them enjoyed rather than stashed away in closets. She sells many of them and from Dec. 5th through January 16th the Lopez Library is fortunate to have several of them gracing our meditative spaces. Perhaps a library patron or two will view these lovely quilts and the color will inspire them just as it has artist Edi Blomberg……beautifully.