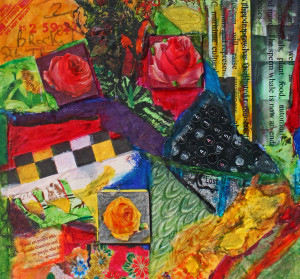 Artist Brooks named her studio 'Sea Borne' because so much wonder, spirit, fun and whimsy is borne to her by the sea. The sea and islands have always been her favorite places to be.
She was drawn to collage/mixed media since the 1960's when she was in art school in New York City. She works intuitively without planning and looks forward to the surprise of what unfolds at the end. Knowing when to stop, however, is key. She will often re-do finished pieces into new art work decades later. (You may see her here in the library changing a detail of a piece on the wall that is not yet just right.) She mixes most aspects of her life. In fact, it seems she lives her life as a collage, always creating unplanned and sometimes surprising mixes of ideas, meals, art, poetry, gardens, furnishings and the spiritual. Making something new out of already existing stuff appeals to her because she hates to throw away or waste stuff and she likes the challenge and the hunt of combining just the right pieces in just the right way. She has fun doing this and likes to play where the edges of two worlds meet – internal and external, ocean and land, spiritual and material, natural and man/woman made, profound and mundane, silly and serious.
Collage is more demanding of the viewer than some other visual art forms. The viewer needs to find his/her own meaning and connections by looking and allowing the collage to trigger a thought or feeling without needing to know the artist's 'intention'. It is an opportunity to explore a new territory without road signs or a GPS.  We hope you will enjoy Brooks' art for the next few weeks here at the Lopez Library.
Her web site is: seabornestudio.com or stuffbybrooks.com.