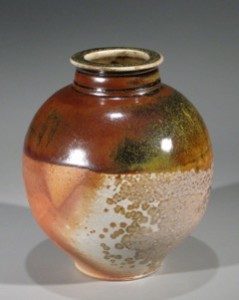 The Lopez Island Library proudly welcomes the wood fired ceramics of artist Jeffrey Hanks.  Please take a moment to enjoy the grace and beauty of this artwork displayed in the glass cabinets as you enter the library.
Jeffrey Hanks discusses his work:
"The vessels in this exhibit were made between 2011 and 2015 and were fired in a wood burning Anagama kiln on Lopez Island. Anagama kilns are among the first kiln designs to reach temperatures high enough to vitrify the regional stoneware and porcelain clays found in Japan and Korea.
The kiln has a very basic tube like design with large chambers for staking the ware and internal fireboxes that put the pots in intimate contact with malevolent combustion within the kiln. Wood ash flies up from the fire and sticks to the pots melting to form glaze and make subtle marks of flame strike.
The firing takes 40 – 48 hours. It is stoked around the clock in 4hr shifts with 2 – 4 stokers on shift. Once glaze temperature is reached stoking continues to maintain that temp, between 2300° – 2400° F, for about 12 – 17hrs. It's a heavy lift but worth it for the potters end result."
Jeffrey Hanks