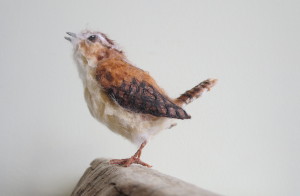 The Lopez Island Library is very pleased to feature the unique work of artist Terry Marshall.  Lopez Island is home to many people who appreciate the beautiful and ethereal elements of birds.  We encourage those people and all our library patrons to stop and view her work as you enter the library.  Terry shares her story with us:
"I have been working with wire, papier mache and handmade paper to make sculpture for 12 years now, and I am just beginning to have a sense of what is possible with this medium. The combination of materials lets me begin with an internal structure and work my way to outer form and then finally, paint with beautiful and textural hand made paper to add color and detail. It is a very playful medium and I love being able to shape and re-shape the form, and creatively use whatever comes to hand to help the piece come alive.
I have a deep reverence for the natural world and all the incredible beings that we share the earth with. For me, making animals and birds in sculpture is a way of learning deeply about this world. When I work on a piece I take time to learn all I can about the creature I have chosen, including how they move and live in the world, as well as the bone, muscle, and fur or feathers of their particular form.
Last year while watching goldfinches land on the tall grass stems outside my back window I became fascinated with the fact that they are light enough that a single stem of grass holds their entire weight as they pick the seeds off. That led to getting immersed in birdness. I started by exploring the intricacies of a wing, and attempting to learn how to fly. It has gone on from there and what you see in the cabinet is some of the results of that fascination."
The library staff is truly fascinated with Terry's work and we encourage you to take a moment to enjoy the delicate detail of her fine artwork.