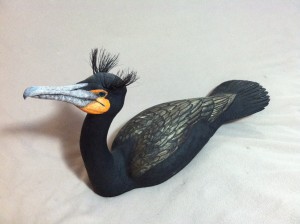 Artist Karen Hattman has three studios on Lopez Island:  One for painting, one for ceramic sculpture and a third for wood sculpture. For her exhibit in the Lopez Library she presents her wood decoys and sculptures. Living on the east coast near Maryland and in North Carolina she found a whole world that interested her in the decoy culture. Karen's first and continued love, is art and she has wonderful memories of all that inspired her along the way: a handful of crayons, paper and pencil made into a tent, a mural painted in her family home alongside her father, her first oil painting which featured a heron and was a gift for her mother. A string of oil paintings followed and then branching out, she taught herself sumi painting and watercolor painting as well.
At the age of 13, she decided she wanted to carve some wood and with newly obtained x-acto carving tools, she carved a bust of an Indian man in a turban and then a mother and child. The carving of mother and child won first place in sculpture in an adult art show at the local art guild. Though there were no real art programs in the schools she attended, Karen has worked and continued developing her art skills through out her life.
When Karen was four years old and building her little tent of crayons, pencils and paper she slipped and fell.  One of the pencils punctured her right hand and the spot of lead from its point is still visible on her right palm today.  It gets her attention each time she sees it, as do many things that inspire her art and memories.  Her beautiful work is proudly featured in the library's glass cabinet as you enter the library.  We encourage you to take a moment to view and perhaps take a memory or two with you.