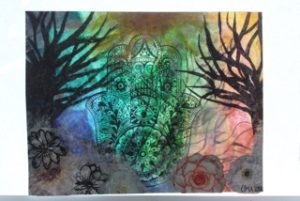 The Lopez Island Library presents a group show of Lopez High school students who are in the AP Art Class at the Lopez School District. Art Instructor Jaimie Terada shared the following info regarding the students:
"The students featured in this show are Ty Greacen 9th grade, Uma Anderson-Chopra 10th grade, Uhane Johnson in 11th grade, Jack Sovelove in 11th grade and Dakota Cline 12th grade.
The AP art students are working on creating a portfolio of drawing and 2d design art that they will submit to the College Board for credit, and or have a portfolio of work to present to colleges.
These Students have been exploring the use of different media for issues of drawing and 2d design. They all have been developing their own technique to convey their voice in the unique style and approach they have for each of their art works. All students have been taking art or doing art on their own from a young age and plan on studying or continuing art after high school."  Join the library as we celebrate the interesting and beautiful work displayed by these students.