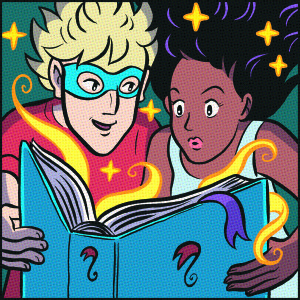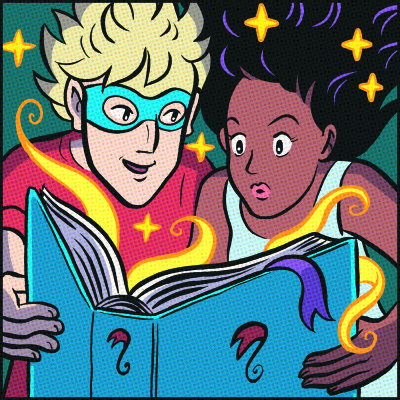 The Lopez Island Library is excited to announce the 2015 Summer Reading Program. This year's theme is "Every Hero Has a Story." It begins Monday, June 15 and runs for 8 weeks, ending on Saturday, August 8.
TWEENS & TEENS
Students entering grades 6-12 will earn a raffle ticket for every 75 minutes spent reading books or e-books (including graphic novels or manga) or listening to audio books. Tickets may be put toward any or all of six different prizes: a $25 GameStop gift card, a $25 ITunes gift card, two $25 Lopez Bookshop gift cards, and two $25 cash prizes (one prize per reader). Tweens and teens signing up for the program also get to choose a free book! The goal for tweens and teens is 600 minutes spent reading. Those who reach this goal will get a raffle ticket plus 5 bonus tickets, and a set of earbuds or an LED-light stylus. Raffle prize winners will be selected on Tuesday, August 11. You need not be present to win.
YOUNGERS
The Summer Reading Program for readers up to 5th grade will run on the same dates: Monday, June 15 – Saturday August 8. Come sign up at the library and receive an activity packet. All participants who read or listen to ten books will be eligible for a goodie bag. Readers may also earn Book bucks to spend at the Lopez Bookshop.
Other Summer Programs for youth include Baby Time and Storytime (Wednesdays at 10 & 11am); the second annual Musical Instrument Petting Zoo on Saturday, July 18 from 1:30-3:30pm; Pet Pals – learn to greet and be with pets safely – on Wednesday, July 29 from 11am-noon; and Beetle-mania: Meet Our Insect Neighbors on Friday, August 7 from 11am-noon.
Mark your calendars for the 35th annual Teddy Bear Picnic at 11am on Wednesday, July 15th in the orchard behind the Library. Charley Thweatt will entertain us with songs and fun. If we are very lucky, Mr. Bear may come out of hibernation to give us a dance.
Having fun isn't hard, when you've got a library card!