On Your Mark, Get Set … READ!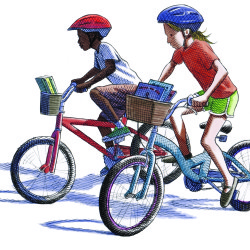 The Lopez Island Library is excited to announce the 2016 Summer Reading Program. This year's theme is "On Your Mark, Get Set … READ!" It begins Friday, June 17 and runs for 8 weeks, ending on Saturday, August 13.
TWEENS & TEENS
Students entering grades 6-12 will earn a raffle ticket for every 75 minutes spent reading books or e-books (including graphic novels or manga) or listening to audio books. Tickets may be put toward any or all of six different prizes: a $25 GameStop gift card, a $25 ITunes gift card, two $25 Lopez Bookshop gift cards, and two $25 cash prizes (one prize per reader). Tweens and teens signing up for the program also get to choose a free book! The goal is 600 minutes spent reading. Those who reach this goal will receive 13 raffle tickets. Raffle prize winners will be selected on Tuesday, August 16. You need not be present to win.
CHILDREN
The Summer Reading Program for readers from preschool to 5th grade will be a little different from past years.  In addition to reading, children will have the opportunity to earn prizes for attending library events. Come sign up at the library starting on the last day of school (June 17) and receive a challenge packet. Children who read at least 20 books & complete 8 challenges will receive prizes and the chance to win 1 of six $25.00 Lopez Bookshop gift certificates! All participants who complete the program will be eligible for a prize bag.
A new event will be the weekly Summer Reading Club on Wednesdays from 12:00-2:00pm. Staff and volunteers will be in the Helen Anderson Children's Room to guide reading, games, and activities and award prizes.
Other Summer Programs for youth include:
Toddler Storytime: Wednesdays 10:00-10:30am
Preschool Storytime: Wednesdays 11:00-11:30am
Summer Reading Club: Wednesdays 12:00-2:00pm
Author Thor Hanson Reading & Books 4 Sale: Saturday, June 18, 4-5:30pm
Musical Instruments Petting Zoo: Saturday, June 25, 1:30–3:30pm
Teddy Bear Picnic:  Wednesday, July 13, 11:00am
Pet Pals: pet safety & care with "guest dogs": Wednesday, August 3, 11:00am–Noon
End of Children's Summer Reading Program Party & Prize Drawing: Saturday, August 13, 2:00-3:00pm